Homeowners need trusted tradespeople for a wide range of maintenance and improvement jobs. Our latest exclusive report highlights that the way homeowners find installers, plumbers and electricians is changing before our eyes. Download the completely FREE 20-page Eureka! report here.
Although the number of options available to homeowners has never been greater, installers should keep in mind that word of mouth is still the most critical path for finding a trade.
Routes to market
Online trade directories, such as Checkatrade and Rated People are also an established route to market – these services have a significant reach, Eureka! estimate around 4.8 million homeowners would currently use free-to-access online trade listings if they needed a tradesperson. This could all be about to change with an interesting new option being made available to homeowners.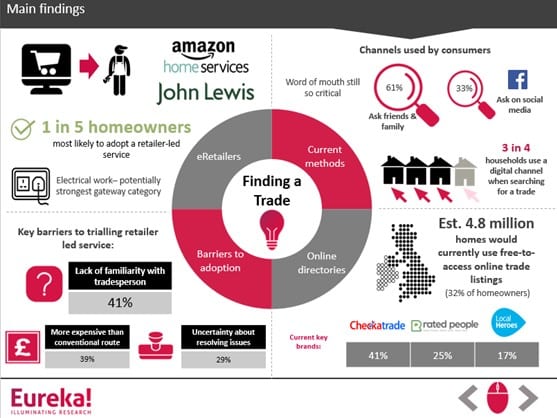 Companies such as Amazon and John Lewis have recently launched new services that gives consumers access to a pool of vetted tradespeople and service providers. Eureka's results indicate that homeowners are warm to eRetailer brands entering this space – 1 in 10 would pay for such as service today if needed and around one in five homeowners are particularly receptive to this proposition going forward.
The lucrative higher earning homeowner segment appear to be most likely to trial such a service.
As the digital space evolves, the research poses the question whether brands more typically associated with general ecommerce will make free-to-access services suffer as a consequence? Or will the whole digital category increase in size in the medium term?
Survey findings
Some of Eureka's other key findings are:
Installers need to manage their digital presence – three quarters of homeowners use some sort of online method for finding a tradesperson and 33% ask their network on social media
Men and women look for trades differently. Males somewhat live up to their conventional stereotype by finding help themselves and not relying as strongly on recommendations as females
41% of consumers would use Checkatrade if they needed a plumber, electrician or builder – the next most popular current provider is Rated People (25%)
One fifth of homeowners would be likely to adopt the Amazon or John Lewis type approach and only 1 in 10 would actively reject the idea at this stage. Those that are currently using online directories such as Checkatrade would be more likely to trial the new approach (24%)
Lack of personal familiarity with the 'suggested' tradesperson and higher costs are the largest barriers to trial – indicated by over 4 in 10 homeowners. This could be a point of differentiation for brands looking to separate themselves from the crowd
Lack of familiarity is a potential obstacle for many consumers, especially those in the more mature, higher managerial segment. Cost is more of a factor for female consumers, although men are more likely to say they would want to haggle
Reflections on the research
Dave Ruston, Director at Eureka! Research observes "We are in the middle of a transformation of how homeowners will discover and select tradespeople for jobs in the home.
Our exclusive research highlights that consumers are very open minded about the Amazon model but we will be tracking how this plays out in coming months as homeowners begin to trial this new service"
Joe Sharpe, Online Editor at Installer Magazine said "Finding new work is one of the most important priorities for tradespeople. There's nothing worse than being home and the phone not ringing.
In the last 18 months we've seen big brands entering the heating and plumbing industry, and independent installers are concerned about losing out on work, or being undercut on price.
Eureka's work provides an important insight into the buying habits of consumers, and fortunately for local installers, word of mouth and recommendations from friends and family are still the key drivers in the decision-making process."
More information
The full results of the Eureka survey can be downloaded from here. The online survey was with a sample of 327 households in August 2018.