It was a pleasure to be invited to the Bathroom Manufacturers Association (BMA) conference this week and share some of our expertise on channel shift with the great and the good of the bathroom world.
In the absence of such events for what seems an eternity, it was a very welcome opportunity to finally meet familiar faces once again. It was also a timely reminder of the importance of hearing fresh perspectives that might compliment or challenge some of your own thinking.
This is a short piece summarising the common themes to emerge from the excellent plenary speakers and the expert panel discussion that Eureka! were invited to be part of.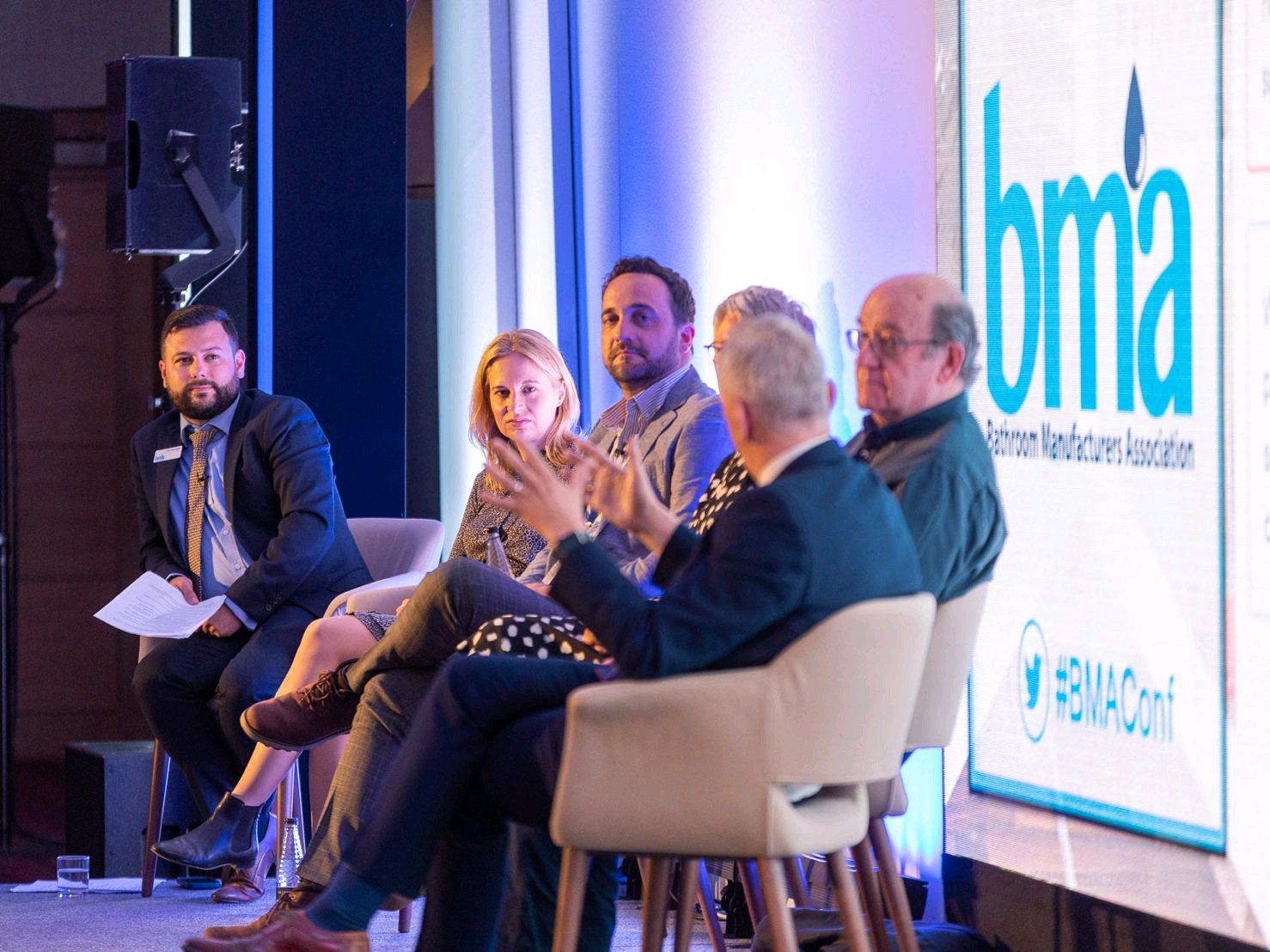 Staying positive
We are entering another period of drastic economic uncertainty that will almost certainly affect the home improvement and bathroom categories. The dashboard has had several amber warning lights flashing for some months now and many of them are now turning red.
So it was therefore very timely that John Hotowka gave an uplifting opening presentation about the importance of celebrating achievements and the pitfalls of recognising and confronting 'self-limiting' beliefs. Don't be afraid of asking for help – as long as it's not illegal or damaging! And a useful reminder about the power of peer-to-peer networks.
Steve Collinge is obviously a keen Stranger Things fan and has described the general situation in home and garden as a bit like the 'Upside Down'. Contrary to perceived wisdom, we are seeing a downturn in smaller ticket items before any dramatic decrease in big-ticket bathroom and kitchen projects (n.b. thanks to Claire Kilkenny for helping me draw the parallel here!).
Our latest research (just released) with tradespeople, including plumbers and installers, provides a nuanced picture of what is currently happening at the coalface. Whilst, on one hand we agree, there is plenty to remain optimistic about and many trades still report fairly substantial order books. There are however some stark findings about overall consumer sentiment, a decline in business confidence for the next 6-12 months and a definite shortening of the order books. Time to hold tight folks.
True sustainability
The overarching theme for the conference was 'Sustainability for the Sector'. For an industry that is struggling to even migrate away from paper catalogues and glossy printed retail brochures, bathroom companies have some unique obstacles to overcome before we can say that this objective has been truly met. It will be a long journey.
Melissa Sterry was able to paint our relationship with nature in a historical context and pointed out that the adoption of alternative, ecological materials into building products is still very much in its infancy. Both Lewis Dartnell and Melissa alluded to solutions that mitigate the after-effects of wild fires and other natural disasters that are projected to increase in frequency.
Robert Llewellyn injected some optimism by drawing on the example of Electric Vehicle adoption. In his own 'unique' style, Robert talked passionately about how most barriers to adoption in this category can now be overcome. In Oslo, 85% of newly registered cars are now EV (not fact checked!) and this is partly facilitated by network investments – all public parking spaces in the city have an EV charging point and induction (cable free!) charging facilities are also becoming more common place – great at places such as taxi ranks.
But switching everyone into an electric vehicle rather misses the point of true sustainability, as Robert went on to point out. We need to reduce our overall need to travel and own any commodity that for the vast majority of time just remains dormant on our driveways. Car pooling might to part of the long terms solution here but that will require some serious behaviour change.
I haven't worked out how this paradigm might apply to bathrooms yet, but it does seem rather at odds with the long-term trend we have seen of homeowners preferring multiple bathrooms and ensuites in their properties.
Wall-papering over the cracks
So is the built environment still only really at the 'wall-papering' stage then? A 'green roof' or 'vertical garden' on top of what is otherwise constructed using orthodox building materials might make us feel a little bit better ourselves. But it's ultimately superficial.
To be truly sustainable we should be designing and integrating ecological systems into our buildings – residential and commercial. Apart from some isolated examples that Melissa Sterry shared with the audience, it feels like we are still light years away from that.
I have to say that the use of kinetic energy and grown furniture were highlights for me!
But let's stay positive and take each challenge step by step. Improving the construction sector's use of carbon in distribution and delivery has to be urgently addressed. From our perspective, encouraging EV adoption of tradespeople and small contractors will be one of the biggest challenges and we have forthcoming free research to share with everyone this Summer on that very topic (watch this space!).
When reflecting on some of the broader facets of the pandemic, Mike Rigby coined a useful term 'synchronisation'. In the early part of the pandemic when many parts of the construction industry were not even sure if they could – or indeed should – be reopening, everyone was forced to operate at the same pace.
We found with our own research last year that the pandemic had a distinctly negative impact on 15% of tradespeople working in the industry. However nearly double this figure actually reported a positive impact. This wasn't superficial wall-papering. Buoyant consumer demand certainly explains some of this, but we know anecdotally of many trades who grabbed the opportunity for a better work-life balance.
For a while at least there was a re-set; a realisation that there might be an easier way of working, a more sustainable way infact.
Role of tradespeople and bathroom fitters
Although some have stepped away from direct purchasing, all the evidence we have been involved with indicates that the professional tradesperson will have a key influential role in the bathroom for some time to come. We ignore them at our peril.
Jane Blakeborough's recent research with consumers on behalf of the BMA also backs this up.
In the afternoon panel discussion, we talked about some of the channel shift that has been (gradually) happening within this important route to market. The audience voted that the current paradigms would not be sustainable in the long term. But old habits die hard and as John Newcomb pointed out the fundamentals of merchanting have stayed true for some time.
Although they still have their go-to favourites, installers have now come to expect a wide repertoire of buying options for bathroom products. Roz Bridges, from eBay pointed out, however that new channels such as theirs should not be seen as a threat and will often be bringing new customers to the table not cannibalising their existing footfall.
We had some excellent engagement and input from the audience during the Panel and the interactive technology worked really well here. There were literally too many questions to go through in the allocated time! Well done to Tom Reynolds for managing this so well.
The sector has a collective responsibility to educate and inform tradespeople about the virtues of sustainable products in the bathroom space.
This should be backed up with compelling marketing collateral – both digital and non digital – that both inspire and inform consumers. We know that the trades will more often than not signpost their customers to showrooms that they feel are appropriate. We need to get all parts of this equation right if we are going to migrate retail customers onto sustainable products.
For now
We look forward to helping the bathroom and broader home improvement sector share best practice in the area of sustainability. If any stakeholders have any specific ideas or concepts they would like to market test before developing any further, please don't hesitate to get in contact with Eureka! Trial and error is an important part of innovation … but best to do it in a systematic way!