The home improvement sector has known for some time that homeowners are growing more confident to buy a range of plumbing and heating products. A new data tool from Eureka! now helps shed new light on this growing trend and what it might mean for the sector in the long term.
Eureka! have developed a unique 'basket of goods' which includes showering, taps, and sanitaryware amongst other heating and plumbing items.
We have pulled together data from over the past 5 years to show how behaviour and attitudes to purchase has evolved over this time period. In 2014, over 4 in 10 homeowners stated that they would not be confident purchasing these sorts of items.
Over the space of just five years, this figure has dropped by half, meaning that around 80% of households would now potentially look at buying at least one of these products themselves.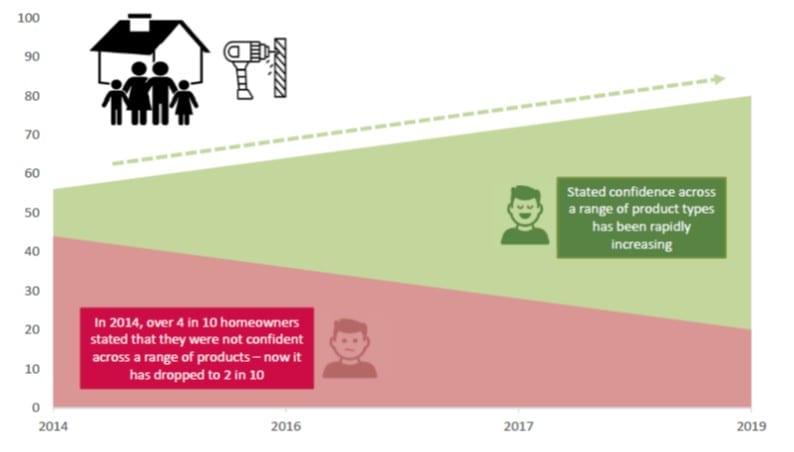 This has some profound implications for brands right across the home improvements and DIY spectrum. It could represent some significant new opportunities for consumer-facing retailers, such as B&Q and Wickes.
However, it could point to challenges for trade orientated brands such Plumbase and Wolseley. New style trade outlets, such as Screwfix or Toolstation, who position themselves as both a trade and consumer-friendly proposition, are potentially in a very strong position.
The full Eureka! market report is available completely for free here!
To help brands and retailers better understand this fundamental shift, Eureka! have developed a bespoke 4 stage hierarchy for the sector, "The 4 Cs":
Confidence to explore
Considering the options
Conviction to purchase
Courage to install
Eureka! believe that by measuring how many homeowners move up "The 4 Cs", we can begin to track which categories are becoming most favourable to the consumer, which can in turn inform retail activation and digital strategy.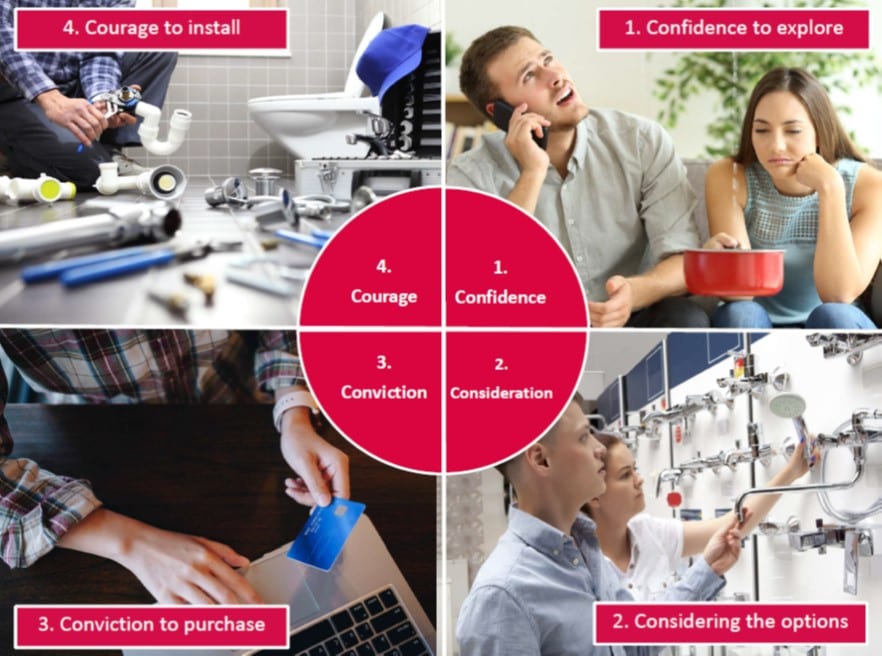 The model can also be used as a tool to ascertain how influential a powerful consumer-friendly brand can be in the decision journey. This framework will work across many parts of the home improvement category including bathroom, kitchen, heating, decoration and even smart technology.
The latest Eureka! 'Basket of Goods' shows that:
55% would potentially purchase a bathroom tap themselves
53% a kitchen sink
52% a shower
39% a bathroom suite
30% a radiator
21% would even consider purchasing a boiler themselves, and 9% underfloor heating
Dave Ruston, Director at Eureka! Research observes "Consumer confidence is rising particularly rapidly amongst younger homeowners and those with more disposable income. Our tool helps stakeholders in the home improvement market begin to consistently measure one of the most fundamental shifts seen in the plumbing and heating sector for decades."